Ever since my mother was a young lady, she was a dancer, a can-can dancer.
Throughout her career she developed a love for all things french can-can.  And from her collection of can-can paraphernalia, she unknowingly planted the seed of my obsession with french culture.  I always grew up knowing about the work of Henri De Toulouse-Lautrec, our kitchen ware was covered in it, and we had a few reprints around the house.  It was always something to be proud of, his work is beautiful, and I especially loved his color palate.  Of course I couldn't post about him if I didn't looove the beautiful hair do's and mustaches of all his subjects!  Give me a Can-Can top knot any day! (A quirky precursor for the Gibson hairstyle I might add, more on that another day!)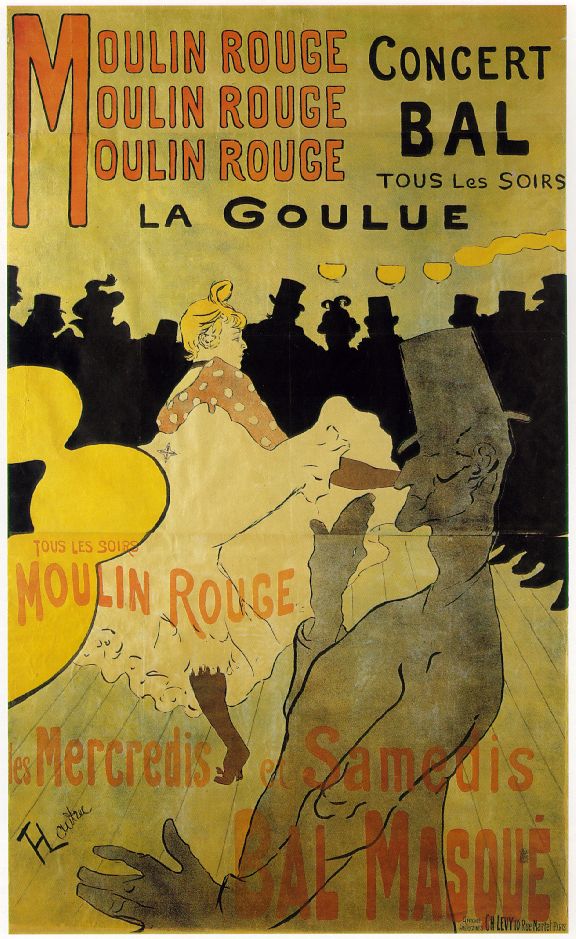 Henri De Toulouse-Lautrec (24 November 1864 – 9 September 1901) was born into an aristocratic family, however throughout his career he preferred the company of a much lesser class of people, as seen in his work.  Due to inbreeding (yikes!) his legs that had suffered from fractures never healed properly and became underdeveloped, giving him the adult height of 5'1".
In need of a place to fit in, Toulouse-Lautrec found Montmartre, the scene of all artists and bohemians of that era.  It was there that he met many other painters who would go on to inspire his work.  He also became a regular at many cabarets and dance halls where he had a reserved table from which he sketched the dancers, singers, and clowns.  Degas, and Japanese art are two great influences on Lautrec.  From Degas he found the unromantic imagery taken straight from real life, and from Japanese art he took defined shapes, expressive outlines, and dramatic color choices.  I definitely see the Japanese influence in his posters and the Degas influence in his paintings of dance hall scenes.
He was a trust-fund bohemian artist, but Toulouse-Lautrec made his own money from the series of posters he was commissioned to make for the newly opened Moulin Rouge.
His depictions of the audience attending dance halls such as the Moulin Rouge have so much beautiful color and interesting subjects, there is more to see than you would think.  I love the way he colored this woman's face blue in such a beautiful contrast from her yellow hair and dark garment.
Toulouse-Lautrec was a brilliant painter with a style obviously influenced yet quite unique.  He excelled at capturing people in their working environment, with the colour and the movement of the gaudy night-life present but the glamour stripped away.  One thing he hated was showing the social class of his subjects.  
Henri De Toulouse-Lautrec was a brilliant documenter of the Parisian night club scene, and a skilled artist.  I absolutely adore his work!